The Triborough Bridge is approximately 60 years old and the existing concrete deck was heavily deteriorated.
The scope of work for this project included selectively replacing the existing deck with 3 distinctive deck replacement systems :
a precast, lightweight panel system that is post tensioned together,
a modified precast deck system with embedded support steel frames and;
an orthotropic steel panel system.
The replacement systems were pre-formed in panels of approximately 10 feet 4 inches wide (the width of one road lane), so that replacement minimized traffic impact . The work sequence of each panel consisted of:
saw cutting existing deck,
the lifting and removal of the existing deck,
the cleaning an preparation of existing supports, and;
the placement, tie downing and securing of the new panel.
Once all panels were installed and the edges connected by plates and grout, the deck planks were covered (paved) with a wearing surface of asphalt for the concrete panels and of epoxy for the steel panels.
The project required extensive MPT (maintenance protection for traffic) coordination, installation of metal shields to protect parklands and the East River below from falling construction debris.
This project also involved extensive coordination with the TBTA's designers as this project was used as a prototype for the selection, design and construction of the deck replacement for the entire bridge.
Close up of riveted bridge structure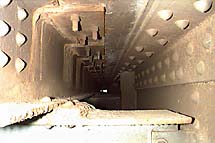 Underside of roadway and suspended protection shield
Median barrier framing and electrical service and bridge deck framing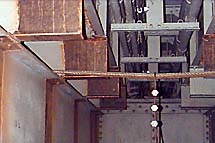 Bridge framing, viaduct at Wards Island and protection shield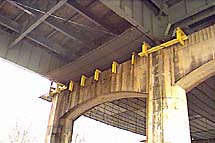 Lead abatement of structural framing
Loading platforms at the suspended spans over Hell Gate and bridge truss